Owning an African Grey Parrot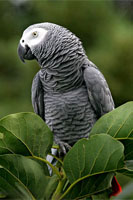 African Grey Parrots are one of the worlds more popular pet and aviary birds. They are widely recognised as the smartest parrot species with one famous bird in particular (Alex) developing a huge vocabulary and the ability to recognise different actions, colours, materials and objects. Africans Greys are thought to have the intelligence of a 3 or 4 year old child.

African Grey Parrots, as their name suggests are native to the African continent and are found in two different races, the Congo African Grey and the Timneh African Grey. Their preferred habitat consists of mainly rain forest, wooded savannah and occasionally mangroves. They have been found to exist in areas as high as 2200m above sea level.
Housing African Grey Parrots
Originally it was thought African Greys needed to be housed in small breeding cages, however it is my belief this may have been due to flighty wild caught birds many years ago. Current best practice is to house African Grey Parrots in suspended aviaries that are between 2.7m and 6m long, 1.2m and 1m and 1.5m wide, and between 1.5 and 2m high. The aviaries should be at least 1/3 covered so that the birds can receive natural sun light as well as have a shower in the rain. It is also a good idea to cover the end 1/3 of the aviary with clear polycarbonate sheeting to provide sunlight whilst still being covered.
Feeding
Most African Grey diets consist of a good quality dry seed mix that is supplemented with fresh fruit, vegetables and nuts although some breeders are now basing the diets on formulated parrot pellets with a small amount of dry seed as a supplement and the usual fruit, vegetable and nuts supplements. Either diet should still have some form or added calcium powder or liquid supplement to help prevent egg binding and the general well being of the birds. It should also be noted that in general, African Grey Parrots aren't big eaters of green vegetables.
Mental Stimulation
As stated above, African Grey Parrots are considered to be amongst the smartest specie of parrot in the world if not the smartest and so they require a huge amount of mental stimulation. Regardless of whether your bird is a companion bird or an outside aviary bird, its mental state should be made as high a priority as its diet. These birds are very clever and will enjoy stripping the leaves off palm fronds through to playing with artificial parrot toys. Be careful not to overload your parrot with too many new toys at once, a much better approach is to introduce a new toy or once every couple of weeks to keep its mind stimulated.
Handling Your African Grey Parrot
Daily handling will keep you bird tame and well socialised however you should keep any nipping or biting under control as with most birds of this size, their beaks can cause serious damage. As soon as any under desirable behaviours is observed you should immediately return the bird to its cage for a couple of minutes. Handling an African Grey is a very rewarding activity as they will quickly become loving and affectionate towards their handlers.
Points to consider before purchasing an African Grey Parrot
African Grey Parrots are very social birds often found in flocks of over 100 birds and as result don't do well being place in the corner of a room without social interaction. They require socialisation of other people bird, family pets to keep them active and mentally stimulated. Without this stimulation they sometimes turn to plucking and self mutilation.

Like most other large parrots their beaks can cause serious injury and so you should be careful when socialising your parrot with people.

African Grey Parrots can live for 50 to 80 years so do you have someone who will take it into their care when you pass away?