Owning a Cockatoo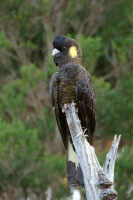 Cockatoos have a much more restricted range than the true parrots, occurring naturally only in Australia and nearby islands. Eleven of the 21 species exist in the wild only in Australia, while seven species occur in Indonesia, New Guinea, and other south Pacific islands. Three species occur in both New Guinea and Australia.
Housing Cockatoos
Housing members of the Cockatoo group, an aviary at least 5 metres by 1.2 metres by 2 metres high is required, constructed of materials to withstand the inevitable chewing that will occur. A nest box around a 60 to 90 cm deep and about 30 cm in diameter should be supplied. An essential requirement is to keep a constant supply of fresh branches of eucalyptus and other native trees available to avoid boredom. A supply of leaves that can be used to line the nest box is also essential. Mate aggression can be a problem if older birds are introduced to each other but seems to be less of a problem with birds that are paired up at a young age. Another problem with breeding birds is that they seem to be very clumsy, and broken eggs are by no means uncommon. There appears to be no easy solution to this, although a nest box mounted at an angle or a nest box with a bottom chamber off to one side, so that the parents do not jump down onto the eggs, may be helpful. Alternatively patience is useful, since the problem seems to decrease with age.
Feeding
Cockatoos have powerful beaks and relish the opportunity to crack open seed pods and nuts. Cockatoos should also be given a variety of fresh fruit and vegetables just as most parrots should to keep with a balanced diet.
Mental Stimulation
As with most of the larger parrots, mental stimulation is a key factor in the well being of the bird. If possible seed pods (the dried seed pods of a number of eucalypt or banksia species are ideal), chew blocks (made of untreated wood) and fresh branches (easily grown in ones backyard) of non toxic tree and palm species should be placed in the cage or aviary on a regular basis.
Points to consider before purchasing a Cockatoo
They are generally noisy and even the smaller species of Cockatoos such as galahs can cause a raquet, however they are generally much quieter.

Cockatoos can live for up to 50 to 60 years so do you have someone who will take it into their care when you pass away?