Owning a Conure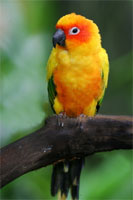 Conures occurr naturally only in South and central America and at a wide range of altitudes. They are a medium to small, lightly built parrot with long tails (Conure literally means 'cone tail') and small but strong beaks. Most conure species live in flocks of 20 or more birds and are often found eating grain, which causes them to be treated as agricultural pests in some places.

Conures can br loosly broken down into 2 or 3 groups, Aratinga, Pyrrhura and Nandayus (the Nandayus group only consists of the Nadaya Conure which is sometimes grouped in the Aratinga family).

Aratinga is latin for little macaw, the Aratinga conures generally seem to have a more mischievous personality than the real little or mini macaws. Popular as pets, the Aratinga conures are generally larger with brighter plumage and are generally noisier, more outgoing, more demanding of the two primary conure families. The commonly kept species of the Aratinga family are the colorful Sun Conure, Jenday Conure and Nanday Conure. Many of the Aratinga species can be quite loud and get a little nippy but otherwise can make very good pets for responsible owners.

Pyrrhura is the other family of Conures, these are generally greenish colored conures. The common species kept in the Pyrrhura family are the Green Cheeked Conure, Maroon Bellied Conure, Pearly Conure, Black Capped Conure and the Crimson Bellied Conure. Usually smaller, duller colored and much quieter than the Aratinga family of conures.Pyrrhura conures are growing quickly as popular pets due to their quieter nature, their friendly and affectionate personalities. Like the Aratinga family of conures, Pyrrhura Conures can go through a stage of being nippy generally when they are still juveniles.

It is generally agreed that the lifespan for most conures in between 20 to 25 years when given a balanced diet and active lifestyle.
Housing Conures
Housing members of the Conure family, an aviary at least 1.8 metres by 1.2 metres by 1.2 metres high is required, constructed of materials to withstand the inevitable chewing that will occur. A nest box around a 45cm deep and about 25 cm in diameter should be supplied. Conures love to sleep in hiding place like nestboxes so dont be shy about placing a nest box or some form of hiding place in their aviary or cage even before they reach maturity.
Feeding
Conures should also be given a variety of fresh fruit and vegetables just as most parrots should to keep with a balanced diet. A quality small parrot mix with a small amount of fresh fruit given daily should provide the basis for a balanced diet.
Mental Stimulation
With the name Aratinga meaning little macaw it goes without saying that this intelligent little birds do require a good dose of mental stimulation. As with most larger parrots, mental stimulation is a key factor in the well being of the bird. If possible seed pods, chew blocks (made of untreated wood) and fresh branches (easily grown in ones backyard) of non toxic tree and palm species should be placed in the cage or aviary on a regular basis. If these natural toys are readily available then being small parrot toys is a must, but dont over crowd their cage all at once with toys. It is better to replace one or two toys every so often rather than put alot of toys in all at once, this way the birds are always being given new challenges.
Points to consider before purchasing a Conure
Aratinga Conures can very very noisey compared to the Pyrrhura family of Conures.

Most conures go through a nippy stage so be patient with them and always supervise when young children are around them.

Conures can live for 20 to 25 years and can become very attached to their owners so keep this in mind and tried to socialise the bird with many people.