Owning an Indian Ringneck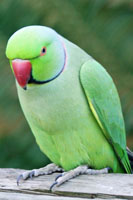 Indian Ringnecks occurr naturally in India as their name suggests. They are a medium to small, lightly built parrot with long tails and small but strong beaks. They are a member of the Asiatic family of parrots which includes Alexandrine and Plum Headed parrots

Indian Ringnecks generally have a lifespan similar to other parrots of their size of between 20 to 25 years when given a balanced diet and active lifestyle. Indian Ringnecks make great pet parrots but must have regular socialization and handling for them to maintain their tameness and sweet behaviour.
Housing Indian Ringnecks
Housing members of the Asiatic family, an aviary at least 2.4 metres by 1.2 metres by 1.2 metres high is required, constructed of materials to withstand the inevitable chewing that will occur. A nest box around a 60cm deep and about 30 cm in diameter should be supplied.
Feeding
Indian Ringnecks should also be given a variety of fresh fruit and vegetables just as most parrots should to keep with a balanced diet. A quality small parrot mix with a small amount of fresh fruit given daily should provide the basis for a balanced diet. Also if breeding then a constant supply of calcium should be readily available.
Mutations
In recent years the number of color mutations of Indian Ringnecks has flourished to the point that there is no far to many colours for me to mention Some of the main colour mutations include the Lutino, White, Grey, Olive, Sky Blue and Violet. In addition to the vast number of colours, different type of mutations other than colour include Lacewing, clear head and clear tailed. And then on top of this you obviously have different combinations of these. All of these variations range in price and availability but in general are all fairly common now.
Points to consider before purchasing an Indian Ringneck
Indian Ringnecks can very very noisey especially when there is more than a couple of them.

If you want to keep an Indian Ringneck as a tame pet, it wil require a continous training and interaction in order to stay tame and not go back to its wild behaviour.

Indian Ringnecks can live for 20 to 25 years and can become very attached to individuals so keep this in mind and tried to socialise the bird with many people.