Owning a Macaw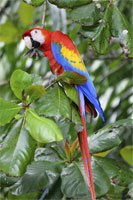 Native to South America, the Macaw family consist of some of the World's most impressive looking parrots. Ranging in size from the small Hahns Macaw (30cm) to the World's largest flying parrot, the Hyacinth Macaw (100cm). Before purchasing your Macaw be sure to research and read up about Macaws as much as possible, as owning a Macaw is a lifetime commitment.
Housing Macaws
Depending on the specie of macaw the hosuing requirements can vary widely, mainly due to the size differences between species. The larger macaws such as Blue & Gold, Green Winged and Scarlet Macaws are strong flyers and should be given adequate flights providing good excercise for there large wings. Aviary flights of 4 to 8 metres long, 2.4 metres wide and 2 to 3 metres high are considered a good size for these large parrots. If you are considering the smaller variety of Macaws such as the Yellow Collard and Hahn's Macaws then aviary dimensions of 3 to 4 metres long, 1.2 metres wide and 2.1 metres high are good practice. The aviary should be made of a sturdy material and heavy gauge mesh as these birds will make lite work of any structure not up to challenge. All macaws are highly intelligent birds and require a great deal of mental stimulation, this can be provided by supplying natural branches to chew on as well as sturdy bird toys and ropes.
Feeding
Macaws have powerful beaks and relish the opportunity to crack open seed pods and nuts. Macaws should also be given a variety of fresh fruit and vegetables just as most parrots should to keep with a balanced diet.
Mental Stimulation
As mentioned before Macaws love toys and require them for mental stimulation. Toys suitable for Macaws come in many forms. Some of which include foraging toys, ropes and chains suitable for birds (available from pet shops or bird clubs). The best toys of all though are seed pods (the dried seed pods of a number of eucalypt or banksia species are ideal), chew blocks (made of untreated wood) and fresh branches (easily grown in ones backyard) of non toxic tree and palm species. Branches which we use regularly to keep these birds entertained come from golden cane palms and bottlebrush's. Both give the birds something which is a little different. The bottlebrush with its smaller leaves, seed pods, flowers and bark are as appealing as the golden cane palm with its long leaves and stem and smooth bark. We often chop a whole palm to give to the birds in the aviaries. This may however be impossible for others to do.

Both the golden cane and bottlebrush are not only ideal but as is the supply of branches of Acacia fimbriatum. The replacement of any toy/s or branch/es should be undertaken regularly (for pet and aviary birds) as should be the regular rotation of toys. Regularly rotating toys will prevent boredom in these highly energetic and enquisitive birds.
Handling
Macaws kept as pets require daily handling. A minimum of 30 minutes each morning is required. Morning sessions more better than afternoon or evening as the birds are usually more receptive to training and handling at this time of the day. If possible they should also be placed in an aviary during some part of the day. This will help the bird to absorb Vitamin D from the suns rays and get a good level of exercise. Pet Macaws like other birds need to have boundaries and should not be allowed to sit on anyone's shoulder. Likewise the bird should be taught the step up and step down command and to obey these commands at all times. If at some stage the bird begins screaming from inside its cage do not run to free the bird purely because it wants your attention. This will teach the bird that screaming is positive and that it will get the owners attention thus causing a disobedient bird with screaming issues. Ignore the bird and once it has stopped screaming take it out of the cage if you wish to spend time with it. If however the bird seems to be in distress immediately check to make sure that all is right. If the bird begins to misbehave at any time place it back in the cage with the door shut for 5 to 10 minutes and walk away to teach it that what it did was wrong. How does this work one may ask? If the bird is enjoying time with its owner and suddenly nips or screams then by placing it back in the cage and not talking or paying attention to the bird makes it less fun for the bird. Being sociable they wish to be with the owner at all times. Never hit or throw the bird.
Points to consider before purchasing a Macaw
They can be noisy and even the smaller species of Macaw can cause a raquet, however they are generally much quieter.

Some species of Macaw can measure up to 100cm in length and so their size can be overwhelming for some people especially if not well behaved.

Macaws can live for up to 80 to 100 years so do you have someone who will take it into their care when you pass away?